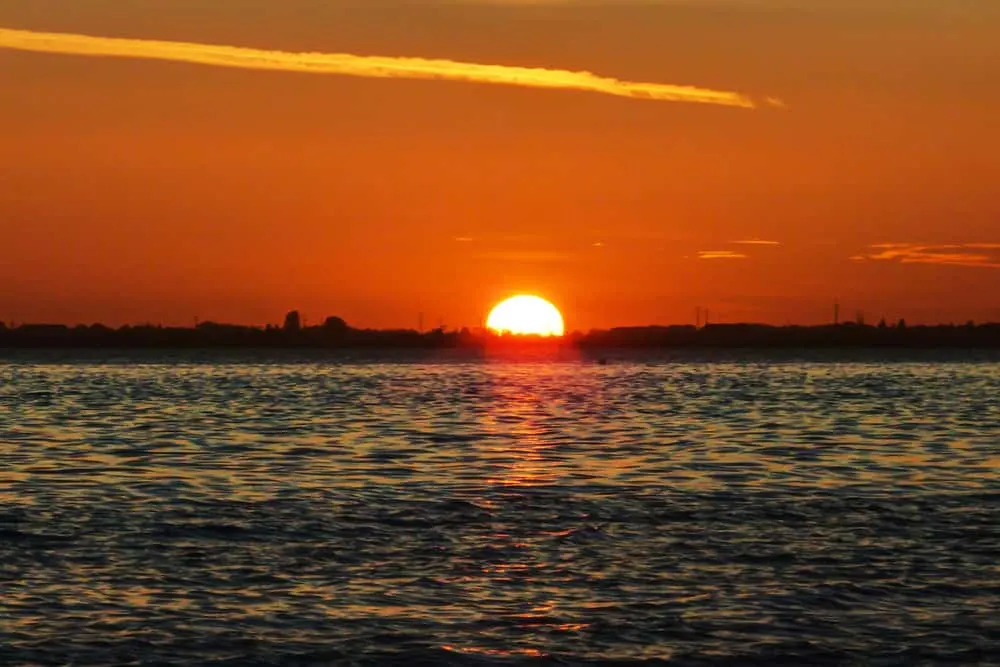 My wife and I lived in Crescent Beach, BC for 6 years. It's an amazing beach community 30 minutes south of Vancouver.
If you're looking for a very enjoyable day outing, Crescent Beach is for you. In fact, it's a great place to visit year-around but of course Summer is best with it's long beach and ice cream shops.
While growing in popularity, it's still largely an unknown gem in the Fraser Valley. While Vancouver beaches swarm with people, on any given weekend there's still plenty of room for sunbathers, swimmers and beach lovers.
Located in South Surrey, adjacent to White Rock, Crescent Beach is Surrey's only beach community … but it's a great beach community. The entire beach is public, so come on down for a walk or a full day and evening, ending your day with a spectacular sunset.
You enter the community on Beecher Street which is a quaint street comprised of shops and restaurants. It dead-ends onto the beach where you can turn around. All streets branch off Beecher.
Map
Parking in Crescent Beach
Parking is difficult in CB. A few years ago they added a large lot by Blackie Spit which is the main parking lot for the entire community. You can find some spots along the streets and alongside Camp Alexander on McBride Street.
The best thing to do is come early or else you'll have to scramble looking for a spot and hoof it to the beach.
While Beecher Street is the main street, there are very few parking spots along it.
Fun Things to Do in Crescent Beach
Watch stunning sunsets
Swim (plenty of swimming areas)
Go for coffee at the coffee shop.
Eat fish and chips on the beach (or anywhere)
Play beach volleyball
Walk the trail wrapping around Crescent Beach
Have a picnic
Go kayaking
Take sailing lessons at the Crescent Beach Sailing Club
Play tennis (must be a member)
Stroll the Crescent Beach promenade
Take a nap on the beach
Sunbathe against large driftwood logs
Walk to White Rock
Go kayaking
Play frisbee on Blackie's Spit
Dine at one of several fine restaurants (2 are on the waterfront at the end of Beecher Street)
Walk your dog in the dog park (behind the main parking lot)
Check out fabulous beach homes
Bicycle around Crescent Beach
Enjoy the Community Gardens
Walk expansive tidal shore (when the tide is out)
Fly a kit
Attend a Yoga Class at Sole Yoga Shala
Kitesurfing (when the wind is up – many people kite surf in Crescent Beach)
Bird watching in the protected bird migration sanctuary
Take your children to the Crescent Beach playground
Go to Camp Alexandra Festival(usually in May each year)
Have your wedding photos taken at Crescent Beach
Host a party at the Beecher Place Hall (newly renovated and on the beach – the perfect party spot)
Restaurants in Crescent Beach
For such a small area, there are plenty of restaurants to choose from. Several are quite good but get very, very busy in Summer.
I've been to all of them except Cotto Al Mare, which is new.
Seahorse Grill
Seahorse Grill is the one restaurant not on Beecher Street. Instead, it's located out of the way on Sullivan where it meets McBride.
The Seahorse Grill is my favorite dine-in restaurant in CB because I love Weiner Schnitzel. It's a Schnitzel place and they do a fabulous job.
There are not a lot of seats so if you're lucky to get a table, enjoy it. The food is amazing. The staff are friendly. I've enjoyed eating there many, many times and will do so again.
The Cabin Restaurant
The Cabin is the swankiest restaurant in CB but I say that with a grain of salt. It's still fairly casual where you can wear shorts, but it's the nicest place in CB. The food is very decent. It has a great vibe. For a fun time and if you like seafood, the Cabin is worth dining at.
Crescent Coffee House
The Crescent Coffee House (formerly Wired Monk) is a lovely coffee shop on Beecher Street a block in from the beach.
The decor is awesome. I've spent hours and hours there over the years. The coffee is decent. It's a popular spot given it's the only real coffee shop in CB.
Hooked Fish Bar
Hooked Fish Bar is on the beach and what I love about it is the take-out window. It has very limited seating but the takeout window is the best because you can dine on the beach.
The food isn't bad. I tend to get the fish and chips which is very good. The patio is also a great spot since it's practically on the beach and offers incredible views of the ocean.
Red Baron
The Red Baron is like a typical beach concession with hot dogs, burgers, fries and ice cream. Lots and lots of ice cream. It's the perfect place to grab a quick lunch to eat on the beach. Kids love it of course. The entire vibe is that of a beachfront restaurant.
Harbour House
The Harbour House offers an eclectic menu of traditional casual American fare and some stellar Asian dishes. I'll skip to the chase. If you go there (it's a lovely restaurant interior), get the wonton soup. It's unbelievable. We swing by for a bowl every time we visit.
The Sunflower Cafe
The Sunflower Cafe is only open for breakfast and lunch. It's a healthy casual dining restaurant with a real Bohemian flare. There's a cool backyard dining area that's fun and shaded.
The sandwiches are outstanding. All in all, if you're looking for something healthy and casual, the Sunflower Cafe is for you. Yes, they also sell coffee.
Fong's Eatery
Fong's Eatery is a Chinese restaurant on Beecher Street. Again, not much seating but the food is quite good if you're in the mood for Chinese. You can get it to-go and eat on the beach or take it home. We ate Fong's when we felt like takeout and wanted to eat in our Crescent Beach house. It's popular within the broader community for takeout Chinese.
Natalino's Pizza (and ice cream shop)
Natalino's Pizza is an odd place with a pizza shop, ice cream shop and coffee shop. The only thing I've ever had there is the gelato which is good. When I last visited, it was cash only. There's an ATM machine just outside the door.
Cotto Al Mare
Cotta Al Mare is fairly new so I have not dined there. It used to be a Greek restaurant called Pelagos which wasn't bad.
The Beach
The beach spans the entire waterfront but one arm of the beach is very different than the other. In the map above, the portion of the beach on the bottom part is very shallow water and is pictured below. The plus side is the water can get very warm in Summer. It can feel like a luke warm bath which is amazing. I've spent hours bobbing around in it.
The upper arm of the beach is where the swimming hole and swimming club is located as well as the pier. Beyond that is Blackie Spit. The swimming hole, while cool, is deep and very refreshing. It's also the area with the best sand. Much of the beach is pebble and rocky but you can find sandy spots throughout.
Walks and Trails
Hotel Accommodations in Crescent Beach
There is no hotel or motel in Crescent Beach.
However, there are a few houses available on VRBO. Frankly, not very many. I guess people don't want to give up their place. I don't blame them.