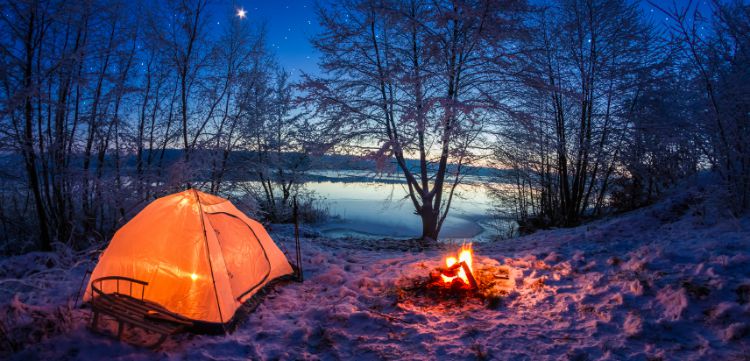 Camping epitomizes everything outdoors.  It caters to a wide audience, from the ultralight backpackers to "bring an air-conditioned RV'er".  One thing is in common, camping gets you outside.  And as we know, being outside is therapeutic.
One of the catches of camping is "where to begin".  If you're new to camping, or even a seasoned camping veteran, we can always use ideas on how to start or step it up.  In the coming years, there are many folks entering retirement age, at least in the United States.  Camping is a great hobby to continue into your retirement age.  Camping is also a great hobby to start, no matter what age.
One thing to know about camping is that it takes time to get used to it.  If you are just starting off, pick a day that you know will have great weather – not too hot, not too cold.  Then, find a campground that is closer to home.  This way, if things go way off base,  you're not too far from home.  Keep in mind, set yourself up for success during your first handful of trips.
Another obstacle is gear.  It's overwhelming to think of all the gear to make yourself comfortable while camping.  Camping can also be cost-prohibitive for some tastes.  In reality, you do not need much to get started and once you have the basic gear, you can use the gear for a very long time.
Here is a list of things to help anyone get started:
Start small
You do not need to buy every camping gear out there to get started.  You do not need a 4×4 vehicle, the best tent, a 5-ounce sleeping bag, etc.  You get the point.  Start building your camping collection slowly.  This will give you an opportunity to try things and see what you like, or do not like.
Essentials
Despite the advice to start small, you do need a few pieces of gear to get started.  A tent, sleeping pad, and sleeping bag will go a long way.  If you decide to buy these items, look for used gear (tons of websites or local shops sell used gear).  If the idea of sleeping in someone else's sleeping bag does not sit well with you, spend the money on a new sleeping bag and maybe consider renting the other pieces of gear.  This is a small price to pay for items that last a long time.
Borrow
If you know someone who has camping gear, do not be afraid to borrow items from them.  This will help you understand what you feel like you need.  Items like a camp stove, headlamps, flashlights, camp games, etc.  Get an idea of what you think is worth purchasing and when you are ready to buy, you'll have a good idea of what you want.  Buy once.
Learn from others
Seasoned campers have many tricks they have learned along the way.  You can benefit from asking questions or listening to their stories.  Also, you can see their set up and get many ideas.  Don't be afraid to ask questions and look around.  You'll notice that most people always have "wet wipes" of some sort, a roll of paper towels, a dish cleaning sponge, a large plastic storage container for all your camp gear, a table cloth for picnic tables, etc.
Read up
There are many posts like this that you can glean ideas from.  You get the idea – do some research, it will minimize the learning curve or help you improve your own style.
These ideas will get you on a path to get started and will always provide reminders on how to continually make camping a better experience.  Some other tips are to always use your gear at home and see if it works – such as setting up your tent.  It's wise to know how your gear works before you get out there.
Don't forget to bring something to do while camping.  It's a great time to enjoy the outdoors with books you have been wanting to read.
The most important point is to just go out and have fun.  You do not need any experience to have fun camping, you just need the will to have fun.
Safe journey.