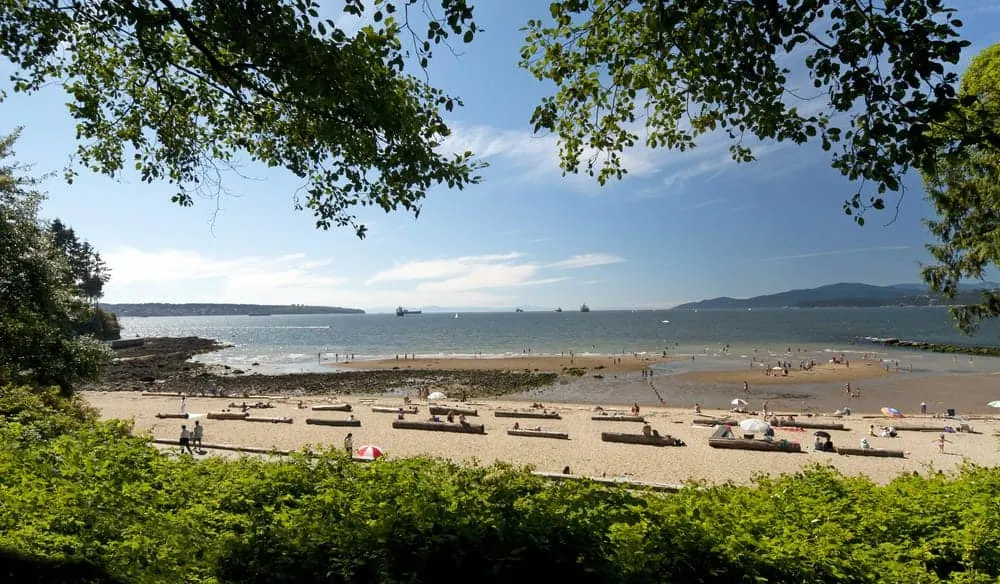 Third Beach isn't the biggest beach in Vancouver nor the easiest to get to. It's not the quietest or busiest. It's not the sandiest. But as far as I'm concerned it's the most beautiful beach in Vancouver.
Here's why.
The setting
It sits at the bottom of a bluff in Stanley Park with huge, rising evergreen trees in the background.
The Stanley Park seawall frames the entire beach making it a great stop on the 10 km. bike ride or walk. The seawall also makes it a terrific walking destination beach from downtown Vancouver.
FYI, if you want to bicycle to it, you'll need to start off Georgia Street on the other end so it's a bit of a haul. The cycling lane for the most part is one-way and going against the flow is not cool.
This beach sits in a small cove area of Stanley Park and the lush brown sand stretches the entire width of the beach. On each side are huge rocks covered in barnacle (which my 5 year loves to explore).
You need not worry about bringing food because there's a good concession (with great coffee) on top of the bluff above the beach.
There are massive driftwood logs that pepper the beach making perfect sitting areas. If you're lucky, you'll get one but you have to go early during the summer.
What makes this beach so special is the incredible setting, lush sand and gorgeous sunsets since it faces west.
Let's take a closer look at this Vancouver icon.
Third Beach Photo Gallery
The best way to get a sense of this amazing beach is via photos. Here are a few.
Is it busy?
Yes. Every Vancouver beach these days is insanely busy on hot summer days. Weekends are unbelievable. If you want a log, get there early. We went several times and found getting there at 10:30 am during the week was great; we got a log and there was plenty of parking.
Swimming
The swimming is great. It's not the warmest water, but no beach in Vancouver offers warm water by tropical standards. There are waves usually, but they aren't big surf so it's okay for kids. Unlike Spanish Banks, it doesn't take long to get to the deeper water when the tide is out.
The water does have some scattered big rocks, but overall the main swimming area has a sandy bottom.
There's a lifeguard as well from Victoria Day to Labour Day, which is terrific; nice peace of mind if you have kids (not that you should let little ones into the water by themselves).
The sand
The sand is one of the best things about Third Beach. It's lush, thick and there's tons of it.
The beach is not terribly wide, but it's deep and the sand is rich and thick throughout. I love walking on the sand.
It's brown though. If you're looking for a white sand beach, Vancouver beaches are not going to deliver.
Third beach parking
There isn't much parking. In fact, parking in Stanley Park during peak hours is a nightmare. One Saturday when we went to Second Beach, we had to park 1.2 Km away and walk-in. Therefore, if you can, go during the week and go early. It's a very popular beach (for good reason) that simply doesn't have adequate parking.
Moreover, unless you drive around Stanley Park often, it's a bit of a maze trying to find out where you need to go. It helps to have an updated GPS unit to guide you through the windy roads to get to Third Beach.
Is it pay parking?
Yes. Free parking is rare in Vancouver. You must pay. FYI, parking at Spanish Banks is still free.
The Third beach concession
Actually, the food and beverage options at the Third beach concession is good. I was impressed this past summer. The burgers we tasty, there are healthier options, you can buy fancy coffees and many ice cream bar options. The burgers are cooked to order. Often they have a salmon burger option which was delicious. We kicked off each day with a latte. All in all the concession offers a great lunch.
My only beef with Vancouver beach concessions is they don't stay open late. We often head to a beach during the week after work with the kids but can't count on the concession staying open.
Washrooms
Yes, like most Vancouver beaches there are publish washrooms that are quite good and spacious. While the floor obviously gets wet, they're kept clean, are spacious, and are a nice convenience.
Map
Overall
If in Vancouver and you love beaches, give this one a shot. It's a real Vancouver gem.