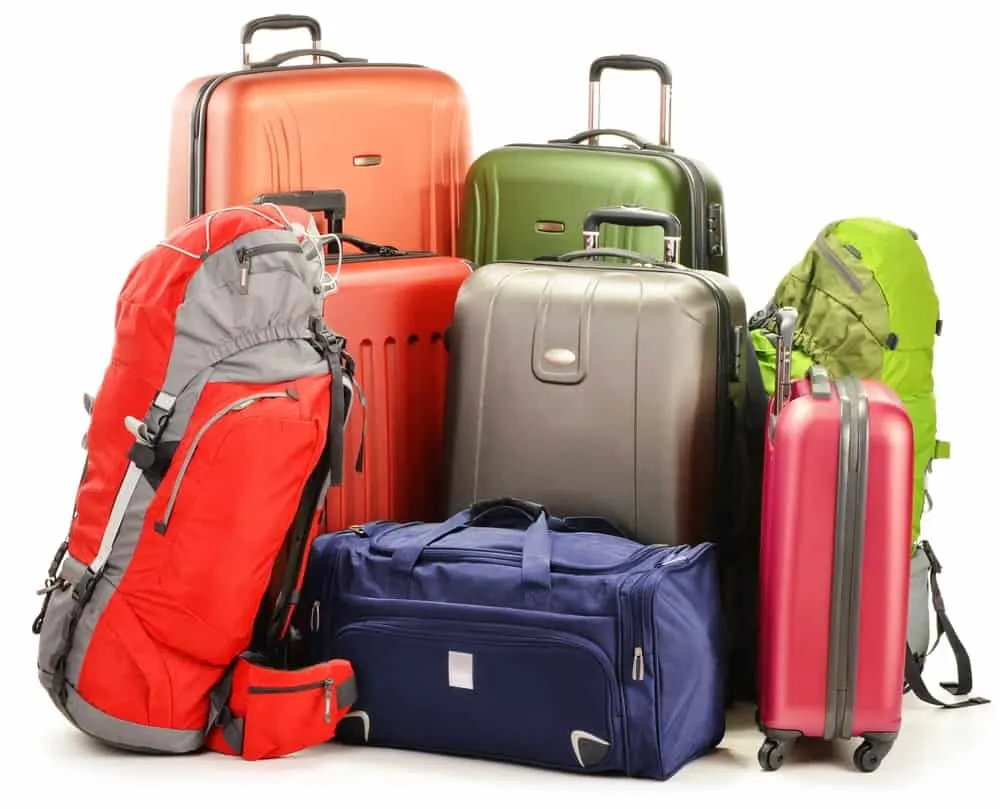 Many of us love to travel. I know I do. There is nothing better than planning a trip and getting away from the hustle of regular everyday life. I have found the worst part of traveling is packing. I never know just how much to pack or even what type of luggage to use to pack.
It never fails, I always pack way too much and my luggage ends up being too heavy. If you are anything like me, you should read this article about the different types of luggage. I cannot promise it will help you pack less, but at least you will know more about the luggage options you have.
Hardside Luggage
Hardside luggage has a waterproof shell and durable, long-lasting material. It will protect whatever is inside of it from water and damage. Hardside luggage is made of different types of materials, but all of them provide a hard shell to protect whatever you are carrying inside. Hardside luggage allows items to be put into both sides of the suitcase and then it closes like a clamshell. The most lightweight and durable material is polycarbonate.
This material can take a lot of stress because it is flexible and resilient to damage. This material does not scratch easily, but when it does, they tend to blend in with the color of the suitcase. A polycarbonate composite material is less expensive than 100 percent polycarbonate. It does crack and scratches much more easily. Acrylonitrile butadiene styrene, better known as ABS, is a solid plastic that is not quite as strong as polycarbonate. This plastic is typically painted and can scratch easily.
Pros
Protects everything inside the suitcase
Resists scratches and dents
Cons
May not fit in the overhead bin
Usually the heaviest of the suitcase options
Softside Luggage
Softside luggage is flexible and made of a soft material. They are the most common type of luggage and are easier to squeeze into smaller spaces. They are lightweight and much lighter than their hard side counterparts. These bags are great shock absorbers. Similar to hard side luggage, these bags can be made of different materials. Not all the softside material is intended to be waterproof, so it is important to know the quality of the fabric.
Not all of the material is stain proof. Softside luggage has exterior pockets for easy access to important paperwork or books. The top of the soft side luggage acts as the lid to the suitcase. Some of them may have a pocket where items can be stored in the lid, but not all of them do. Softside luggage can be made of nylon or polyester. Ballistic nylon is incredibly durable and has a finish that resists abrasions. Polyester is lightweight and incredibly resilient.
Pros
Exterior pockets
Lightweight
Can be squeezed into small spaces
Cons
May not be waterproof
Carry On Luggage
Carry on luggage is most often carried on to a plane. Therefore, it must meet certain size requirements, as it must fit under the seat or in the overhead bin. The size requirements are 22 inches by 14 inches by 9 inches. Most manufacturers of carry on luggage stay within these size requirements so that you can take it on the plane.
Carry on luggage can be various forms from a backpack, small rolling suitcase, and duffel bags. The most common carry on luggage has oversized wheels that are heavy-duty and can roll over most things. They have a larger compartment inside to store items, and external pockets to hold smaller items. They often have straps on the inside that allows items to stay in place.
Travelers like to use this type of luggage when they do not want to check bags and move through the airport easier and faster. This type of luggage is weatherproof and sturdy and typically made of some type of combination of polyester nylon. There are other types of carry on luggage that are made of a hard plastic that is difficult to damage. Carry on luggage comes in all types of colors and styles to suit all preferences.
Pros
Meet airline requirements
Can help avoid baggage fees
Various sizes and colors
Cons
May not be large enough to hold everything
Rolling Spinner Luggage
Much of the luggage travelers use has wheels to make it much easier to move them around. It does not matter if the luggage is a hard side or a soft side, they both can have wheels. Luggage that has four wheels are also called spinners. This is one of the most common and loved types of luggage. It is often recommended by seasoned travelers.
These wheels rotate 360 degrees making it simple to move and turn the luggage in any direction. These bags can easily turn corners. This gives travelers better mobility and many options. The bag can be pushed, pulled, or rolled. The spinner wheels stick out from the suitcase and may be easily broken off the bag.
These bags can be rolled over just about any surface but they may break easily, so care should be taken with them. Or at a minimum, the spinner should be durable so it can hold up to some abuse. Some spinner luggage has the ability to lock the wheels in place so they do not spin. Often the handles on rolling spinners are telescopic, so they will pull out as far as is comfortable.
Pros
Easy to move
Can be moved in many different directions
Cons
Wheels take up a lot of space
Wheels can easily be broken
Duffel Bags
Just about all travelers can benefit from having a duffel bag. These bags have multiple compartments to carry all the essentials. Some duffel bags have wheels and shoulder straps. There are some that even have back straps, so you can carry it on your back.
Duffel bags have been used to carry around sweaty gym clothes, but their purpose has changed drastically over the years. Duffel bags have become more modern and possess features such as a retractable handle and wheels. A more traditional size duffel bag is small or medium and can fit under the seat or in the overhead bin.
Duffel bags have strong zippers and heavy-duty straps to make sure they always close. They are intended to be easy to carry and last for a long time. Duffel bags come in different shapes, sizes, and materials.
Larger duffel bags are harder to move around with because they tend to bulky. Smaller bags are easy to carry but may not be able to hold everything. The duffel bags come in many different shapes. Some are long and tube-like, while others are tall and fat, and some look more like backpacks. A duffel bag may be good for someone that is rough on luggage and tends to destroy it.
Duffel bags are made out of different materials, such as polyester, vinyl, canvas, or some type of blend. Canvas is the most sturdy and reliable material and is almost impossible to tear. Canvas can be pulled across the floor without any wear and comes in many different colors.
Pros
Inexpensive
Durable
Various shapes and sizes
Cons
May be bulky and hard to maneuver
Garment Bags
Garment bags are perfect for the person who travels for business or is traveling for a special event. This type of bag protects clothes that require extra care. They have a hook or a hanger inside the bag so a suit can be hung for it to remain wrinkle-free, or at least more wrinkle-free than if it was stuffed in a suitcase.
If it is a hanger, it can be hung directly in the closet without removing it from the bag. These bags also offer special compartments for shoes, ties, and other small items. Some garment bags have wheels on them to make them easier to move around. Garment bags come in various materials, sizes, and shapes to fit the need.
Pros
Carry clothes so they will not wrinkle
Some come with wheels
Cons
May not hold all the items needed
Travel Totes
The travel tote is a fashionable bag to carry all the items that are needed. They are easy to carry and provide extra room for essential items like makeup, electronics, and some clothes. Any tote can be used for travel purposes, but a travel tote typically has shoulder straps or wheels. These bags allow you to carry a few clothing items and other essentials one may need. These bags are great for a weekend trip. They provide easy access to items that may be needed on a regular basis.
Pros
Easy to carry
Fashionable
Cons
Does not hold many items
May not be able to take everything that is needed
FAQ section
What is Luggage?
Luggage, also known as baggage, can be containers, cases, or containers of varying shapes and sizes that hold the personal possessions of a traveler. The intention of luggage is to securely hold these items while the traveler is in transit. Luggage is made of various materials and constructed in different ways. Some have hard cases, while others have soft cases. These items make it easier for a traveler to carry their items around. Luggage may have wheels or handles to make it easier to move the luggage around.
Brief History of Luggage
Luggage has been used by those in transit for thousands of years. It goes all the way back to the nomads who carried their items around with them. Travel and luggage have come a long way since then. Back in the Roman Empire, luggage was carts carried around by servants or animals. Those who traveled were wealthy and their luggage was reflective of their wealth.
In the mid 19th century, luggage became more popular and was sturdy to handle long journeys. At that time, luggage was heavy trunks and boxes. Louis Vuitton was among the first to make traveling trunks. In the late 19th century, the bags that we currently think of as luggage gained popularity. Initially, they were intended to carry suits and were made of wood and leather.
They looked like mini trunks with latches, hinges, and a handle. By the 1920s and 1930s, suitcases were changed so that they could be carried with one hand. In the 1950s, wood was replaced with material that was durable and lighter. They were first made of metal and plastic so they outside remained hard but the inside was softer. Towards the 1980s, softer luggage made its way on the scene and advanced to the luggage available today, which is lighter weight, but stronger and more durable.
Where to Buy Luggage
You can buy luggage just about anywhere. There are many reputable luggage retailers online that carry a varied line of suitcases. There are many retail stores that sell luggage. Any department store sells luggage. You may even be able to find a store that specializes just in luggage, but those are harder to find. Depending on where you buy your luggage, the quality of the bag changes, so you want to verify the quality of the bag. Make sure you know what kind of warranty is available with the bag, no matter where you buy it.