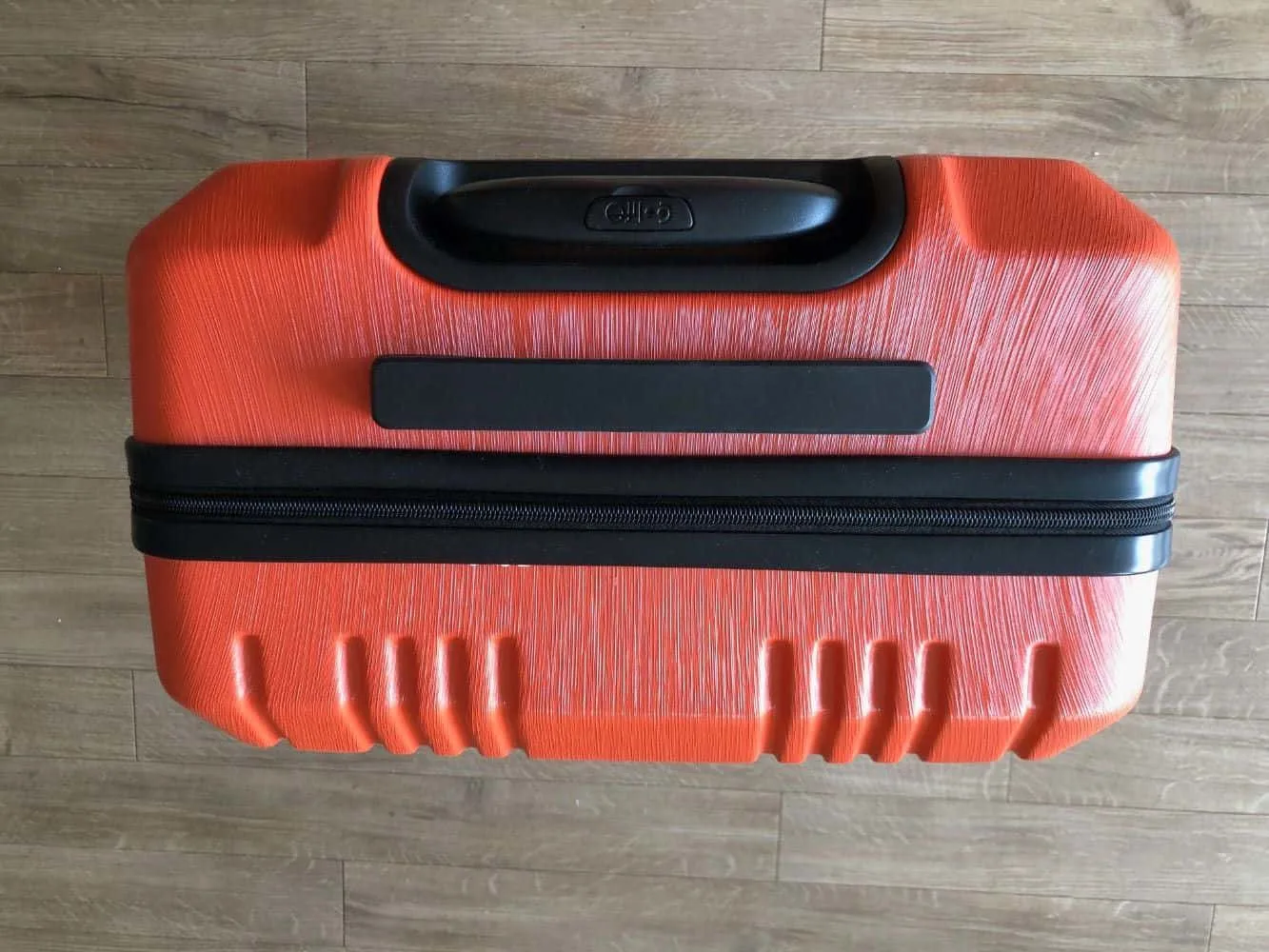 After years of airports beating up our luggage, it was time to get new suitcases for all of us.
Our former luggage set was torn, had broken handles and pretty much was falling apart except for the carry-ons. It was getting embarrassing.
We're a family of four – two young sons.
Instead of getting a pre-arranged set, we decided to get four 24″ suitcases, one for each of us.
We find the massive suitcases are too unwieldy and often end up overweight.
Carry-ons are a tad small for longer trips.
While the 24″ size is too big for carry-on, we don't mind because we prefer checking luggage anyway. I prefer my travel days to be as care-free and luggage-free as possible.
None of us travel for work so travel is infrequent. When we do travel, it's for leisure so waiting for luggage isn't a big deal.
And so we settled on four 24″ suitcases – one for each of us. Big enough to carry enough for a couple of weeks but no so big that it's impossible to haul around. Besides, since each person has their own, in total we can haul quite a bit.
We bought 4 different suitcase brands.
Instead of buying 4 of the same 24″ suitcases, we decided to try a variety of brands, all of which are a different color as well (so it's easy to know whose suitcase belongs to whom). Not only would that give us some good comparisons for this site, but variety is the spice of life. Therefore, we ended up with four different 24″ suitcases, the Coolife PC+ABS being one of them.
Here's my Coolife PC+ABS review
To date, I've done two short hotel stays with my brand new orange Coolife suitcase.
In sum, it's a great suitcase for the money. This thing cost under $100 which is great. You can spend thousands on luggage only for it to be destroyed in a couple of years.
I have only one beef and it's ridiculously small and that is the expandable handle is a bit loose. I jiggles a tad, more so on one side. It's not defective. I don't get the sense the handle will fall off but it's a bit of a jiggle which I don't care for.
Okay, now that the bad is out of the way, let's talk good.
Weight & Specifications
I'm not sure what's more important – weight or quality. I think weight since no matter how high-quality a suitcase is, there's no guarantee it's not going to crack or be smashed apart when flying.
How much does the Coolife 24″ suitcase weigh?
It weighs only 8.1 lbs.
Capacity
The compartment is 60L which is quite good. I can cram a ton of stuff in it; more than enough for a couple of weeks. I usually travel with a small backpack that I carry on the plane.
Having this stylish and sturdy suitcase to myself means I need just it and my small convenient backpack for pretty much any trip.
Durability
Okay, Coolife says that it's made of "lightweight and durable PC+ABS material… crafted to resist impact."
It's a hard shell with some give which is good.
I have no doubt it can resist some impacts but I also believe it's not invincible. No suitcase is. I'm a realist.
What is PC+ABS material?
Resinex.co.uk defines says it's "a blend of PC and ABS providing a unique combination of the high processability of ABS with the excellent mechanical properties, impact and heat resistance of PC."
You can read all about PC+ABS here if you want the full scoop.
Obviously, since I've only done two local trips, I haven't put the Coolife to the test yet, but I'm confident this thing will get me through several years of flights. We fly infrequently. We more often than not travel locally for which it's ideally suited as well.
The Wheels
It comes with 4 spinners. I wouldn't consider any suitcase without four spinners these days.
These wheels are sturdy and smooth. They're also sizeable to roll over small edges and rougher concrete without a hitch.
The outer wheel has a thin strip of rubber for grip which is nice so it doesn't slide around.
All-in-all, I'm very happy with the wheels and how easy it is to maneuver.
The expandable handle
The handle is not perfect. It expands high enough – up to 41 inches in height. I'm tall, yet the handle expands high enough so that I don' have to crouch or bend to hold it.
However, as mentioned above, the handle jiggles a tad. I don't care that because it feels loose. I like solid.
When fully expanded, it locks into place. To release it, you push in the button at the top of the handle and push down. At the bottom it locks into place again.
Carrying handles
There are two carrying handles in addition to the expandable handle. There's one at the top and one on the side.
They're sturdy rubber. They don't provide much clearance so you need slide your hand into it but once there, it feels secure that you don't worry it'll tear off when carrying it (unless you load the sucker with gold bricks).
The lock
This suitcase comes with a TSA approved locking system. I don't bother with such locks, but I understand why someone would.
The only valuable I travel with is my laptop and that stays in my carry-on backpack at all times. The only stuff in my suitcase are clothes and toiletries. If any of it went missing, while inconvenient, it's not catastrophic.
When it comes to locks, I fear I'll forget the combo which causes more problems than it solves.
However, rest-assured, this suitcase has a TSA-approved locking system if that's important for you.
The interior compartment
I'm not suitcase and bag interior expert. I can make due with whatever compartments and pockets provided. This suitcase comes with a separator that includes one large separate mesh area which I use for dirty clothes.
One smart design aspect was that the flap side is on the opposite side of the handle portion. This is important because we tend to lie down suitcases on the handle side and open. This way, if you deploy the flap, your clothes won't go flying out.
In other words, always lie the suitcase down with handle down on the floor and you'll be good.
There's also a stretchy X strap on the non-flap side to help secure clothing in place. I don't bother with it, but it could come in handy.
The zipper
The zipper his strong and includes two zippers so that you can orient the zipper at the bottom or the top. I prefer the top for easier opening.
Suitcase feet
On the bottom of the long side, there are four rubber feet on which you can lay the suitcase down without fear of scratching it if lying it down horizontally. While it's unlikely airline cargo crews will ensure it'll be lying on the feet, you can if transporting it by vehicle.
Overall
Am I happy I bought the Coolife hard shell suitcase?
Yes, I am. I'm not a luggage aficionado, but as someone who stays in hotels about once per month and flies a few times per year, it's a great suitcase for my needs.