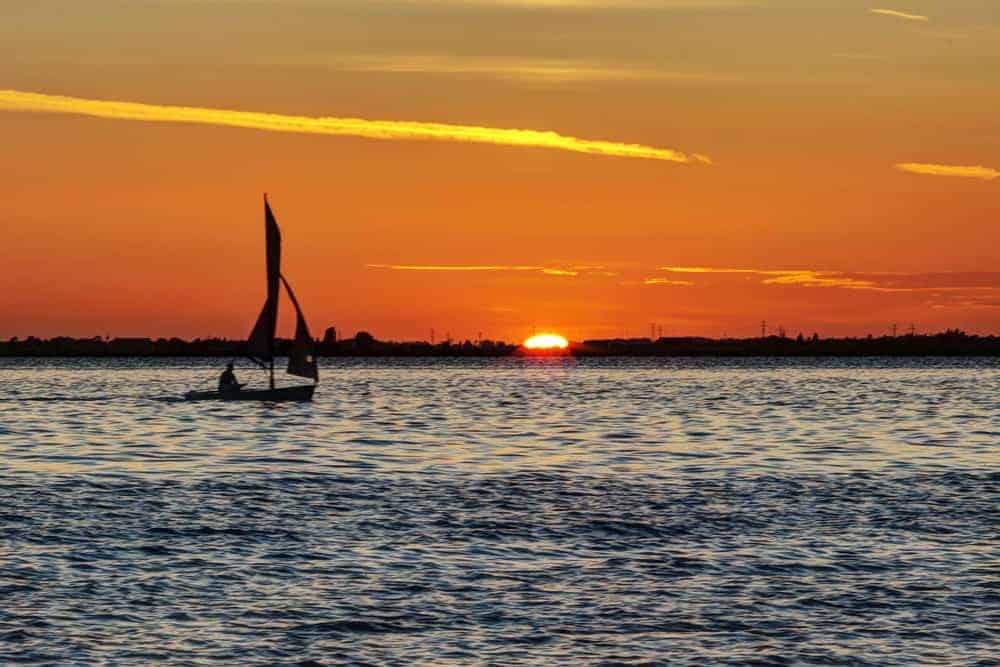 No matter where you live in the Lower Mainland, BC, Crescent Beach is a perfect beach day outing. I know because I lived there for a few years.
It's a small village-like atmosphere with over 3 Km of the beach as well as several easy walking trails throughout.
With several restaurants near the beach, it's an easy place to spend the day and evening for people of all ages.
The entire village and beach area have a real beach town vibe. There's no rowdy bar or resort or even chain stores or restaurants of any type. It's an authentic beach and village that is a must-visit area for anyone living or visiting Southwest BC.
Key points on the map
Photo gallery
Below is a series of photos that give you an idea of what to expect at Crescent Beach. The full write-up is below the photo gallery.
The beach
The beach is the main event. While not super sandy, it's long with plenty of driftwood and best and views directly west for out-of-this-world sunsets.
There's a gravel promenade walking trail that follows the beach which means there isn't a road that travels along the beach which is really nice.
It has an insanely long tide so when out, you must walk about 1 Km to get to the water. However, when out, there are many warm tidal pools that young kids love.
Don't expect soft sand. There are some sandy areas but most of it is coarser rock. This is typical of many beaches in British Columbia.
Swimming
A little-known fact is how warm the water is when the tide is in. The beach is located in shallow bays (Semiahmoo Bay and Mud Bay) and so as the tide comes in, the water flows over warm sand resulting in almost bath-like water. I've sat hours in that water in the later afternoon just lounging in the luke-warm water.
The downside is the water isn't deep. You have to walk out a long way for deeper water unless you head to the swimming beach.
The dedicated swimming area
There's a sailing dock mid-way along the beach that's located in a small deep-water area that's also the main swimming area. It offers a nice sandy bottom and is manned by lifeguards. The beach is fairly sandy as well. It's definitely the main go-to area for families because it's such refreshing swimming and a nice beach area.
The downside to this swimming area is the water is cold because it's deep. It's not so cold that you can't swim, but it's not luke-warm like in other areas of the beach.
Walking
The entire length of the beach has a fabulous gravel promenade which leads into a long, narrow peninsula on the north end called Blackie Spit. From there you can take the trail inland through the wetlands that meander and take you to the main street called Beecher street. This trail that wraps around and throughout Crescent Beach is about 3 Km, which is a great distance for a walk any time of the day.
You can also walk along the many quiet roads where there are cottage houses of all sizes and styles. Some are grand houses while others are older, small cottages. In recent years, people have purchased the older, smaller cottages, tearing them down and building new almost-mansion like homes. It's definitely a sought-after area for good reason.
Water sports
Many people paddleboard and kayak in the Bay. However, because it's also windy, you can kiteboard and windsurf. In fact, when the wind is up, you'll see several kiteboarders out on the water.
Boating
There's a free boat launch as well so you can drop in a motorboat, sailboat, or whatever type of boat you have. Just be sure you're familiar with the water because much of it is very shallow. There's a dredged channel that larger boats use to get out into deeper water.
Food and Restaurants
Another good reason for visiting CB (as it's referred to by locals) is the dining. There are restaurants for all budgets and tastes. Here's a rundown.
Hooked Fish Bar
Hooked Fish Bar is a tourist and locals favorite. It's located right on the beach at the end of Beecher Street. It offers mostly patio seating with an amazing view of the water and sunset.
The menu is primarily seafood but offers non-seafood options as well. My favorite is the fish tacos which is what I get pretty much every time I visit there. They offer a take-out window so you can eat on the beach as well.
Cabin
The Cabin is a stylish bistro-style restaurant located on the main street (Beecher Street) close to the entry point into the village.
This is the most upscale restaurant in the village and offers a good menu and fairly good food for the money.
It's not so formal that you have to dress for the occasion. You can go there after a day at the beach in shorts and a t-shirt. Just don't be surprised to see other diners dressed up a bit.
Seahorse Grill
The Seahorse Grill is my personal favorite because they have one of the best schnitzel dinners I've ever had. As far as I know, the owners of the Seahorse Grill also own Hooked.
If you like Schnitzel, you have to try it out at the Seahorse Grill. They have several other solid hearty dinner options as well.
Oh yeah, be sure to get the taro chip appetizer. It's amazing.
Sunflower Organics Cafe
Located on the main strip, the Sunflower Organics Cafe is a casual organic breakfast and lunch cafe that is really good. It's a help-yourself, very casual environment that has an okay selection of breakfast food and some fabulous lunch sandwiches.
Crescent Beach Bistro
Crescent Beach Bistro is a cozy restaurant offering a variety of plates on the main strip, Beecher Street. I've eaten there a few times and enjoyed it.
Pelagos
If you like Greek Food, check out Pelagos. It offers an extensive Greek menu. The potatoes are amazing. The restaurant is elevated so the view from inside is incredible. It also offers patio seating outside. During the week, Pelagos offers some great specials, which is when we would eat there taking advantage of their Greek offerings at a discounted price.
Red Baron
The Red Baron is your classic beach restaurant offering burgers, corn dogs, french fries, and ice cream. The food is a classic concession fare. The situation right on the beach, it's conveniently located. There's some seating as well.
Harbour House
Harbour House has a beautiful interior with a very casual menu. While they serve burgers and a host of other typical North American fare, the real hit of the menu is their wonton soup. We go there often when in CB just to get a bowl of their amazing wonton soup.
Fong's Eatery
Fong's Eatery is a Chinese restaurant with a massive menu. They do a booming take-out menu for locals and visitors.
Coffee Shops
Crescent Coffee House
I've spent many hours in the Crescent Coffee House. It's a beautiful atmosphere with decent coffee. It's constantly busy and has limited seating, but a very nice coffee shop to visit or pick up a coffee to go.
Ice Cream Shops
Every beach town needs an ice cream shop. Crescent Beach offers two of them.
Red Baron
Offers a decent variety of ice cream on the beach.
Martinos
Offers a large variety of gelato and ice cream.
Bathrooms
There are two public bathrooms, one on each side of the beach. The north side bathrooms are a recent addition and much welcome since it was a long walk to the other bathroom.
Parking
Parking is a big problem in Crescent Beach, but at least it's free (for now). There are dedicated parking lots on the north side (take a right off Beecher street onto McBride and keep going all the way to the end).
These parking spots fill up fast on weekends. After that, you park wherever you can find spots along the streets. There isn't much and you can end up pretty far from the beach which requires a lengthy walk to the beach.
Accommodations
To date, other than vacation home rentals and perhaps a bed and breakfast or two, there are no hotels or resorts in CB.
Hotels
There are no hotels in the Crescent Beach village area. You need to venture into South Surrey or White Rock for a hotel.
While I think a hotel would do well in the area, it's kind of nice that it's free of a large resort or hotel which helps retain the village-like atmosphere.
Bed and Breakfasts
While for years there was a large bed and breakfast on the beach, that's been sold and is now a private home. I did some searching and found no online information about bed and breakfasts in Crescent Beach, but this could change any time so please do your own due diligence and check for yourself.
Summer House Rentals in Crescent Beach
The best option I've found for finding summer house rentals in Crescent Beach is Craigslist, although it's worth checking VRBO and AirBnB as well.