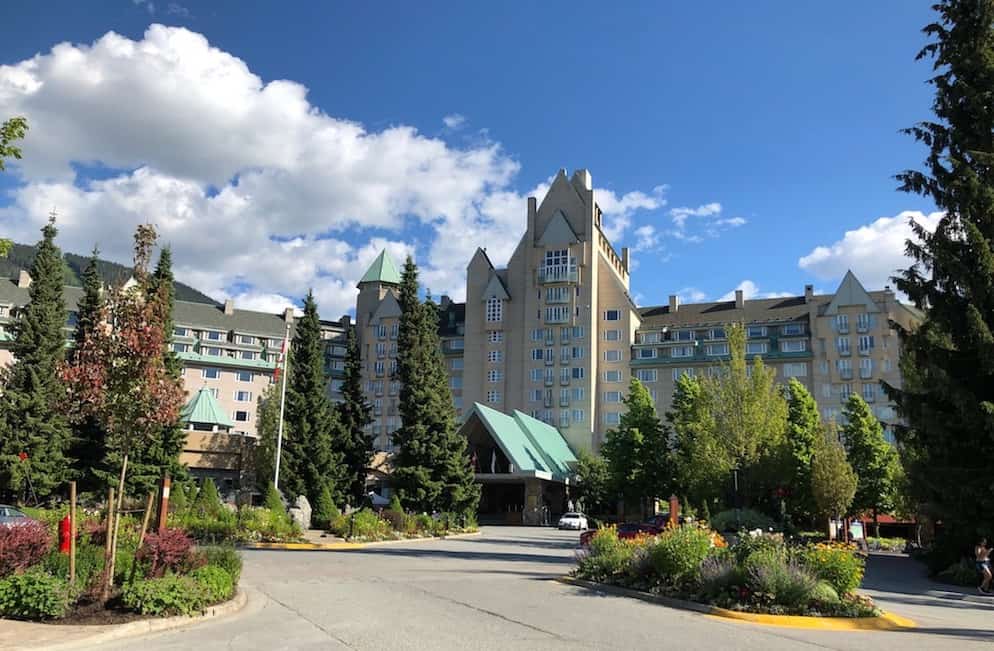 We've had the good fortune to stay at the Fairmont Chateau Whistler twice this year. The first was in February 2020 for a 5-day ski trip. The second was 3 days in July for some Summer fun in Whistler.
We live 2 hours down the road so it's a great get-away spot for us in winter and summer.
To date, we've stayed in the Whistler Hilton and the Fairmont. In 2 weeks we're staying at the Four Seasons (which I'll cover in a separate hotel review).
NOTE: I was not paid nor did I receive a free room for this article. We booked and stayed just as any guest would.
I'm not going to delve into the merits of going to Whistler. That deserves a book, of which there are no shortage. Let's just say it's an amazing vacation spot in winter and summer. Hence we go regularly. People fly from all over the world to ski and bike Whistler. We're very fortunate to live a short two hours away.
I want to dedicate this article to reviewing the famous Chateau Fairmont in Whistler.
Related: Four Seasons Resort Whistler Review
Overall
Hotel Location
The location of the Chateau Fairmont Whistler is good and bad. It's in the upper village which means you aren't centrally located in the main village where the action is. This is the bad.
The good is that it's located right next to the Blackcomb gondola which is pictured below:
I don't think any hotel in all of Whistler/Blackcomb is as close to the main lift as the Fairmont. This is why the Fairmont is our go-to ski accommodation. I'm not big on hauling ski equipment around. I prefer step out of the hotel, take 50 steps and hop on the gondola. That's what the Fairmont offers. It's worth the extra money.
However, if you go during summer and you want to use the bike park, you might be better off staying in the main village (lower village). The Fairmont is not close to the bike park. It's about a 5 to 8-minute bike ride to get there. Okay, that's not all that bad, but proximity to your main activity is worth something.
Also, if you're more interested in being centrally located for exciting nightlife and shopping, you should choose a hotel in the village. By "in the village" I mean a hotel that is within the pedestrian-only area. There are many to choose from including the Westin, Hilton, Sundial and others.
The rooms (suites)
The rooms in the Fairmont are decent. They're currently renovating some. Many have been renovated (they're quite nice). All-in-all the rooms are good.
The 2-bedroom suite
During our first visit we booked a 2-bedroom suite. I hate to say it but I was disappointed. The decor was nice (it was renovated). However, the layout was bad. What the Fairmont does is add a stand-alone room with two beds to an existing one-bedroom suite, join them with a small foyer and call it a 2-bedroom suite. In other words, it doesn't appear to be designed as a two-bedroom. Given we paid quite a bit for this suite, it was disappointing.
The 1-bedroom suite
The one-bedroom suite, on the other hand, is fabulous.
Here are some photos I took of the one-bedroom suite.
Our second visit we stayed in a one-bedroom suite. This was beautiful. It exceeded our expectations. It was newly renovated. It was spacious. It included a decently-sized living room and dining area. It then had a very large bedroom with two queen beds. The living room sofa was also a sleeper sofa.
Both the living room and bedroom had a TV. There were two luxurious bathrooms, each with walk-in shower. One bathroom also had a jetted tub.
The only downside to the one-bedroom suite is it said there was a balcony but it was a Juliette balcony, which is useless.
All-in-all, the one-bedroom suites are spectacular. The two-bedroom, given the much higher price, is not worth it unless you absolutely must have two bedrooms.
Are there hot tubs in the rooms or on private balconies? Sadly, no. At least no suite we stayed in had a hot tub. My understanding is that the only hotel with personal hot tubs is the Sundial.
Concierge services
Parking Valet
Each time we stayed, we opted for valet parking just because it's easier. The hotel charges for parking so you might as well pay a bit more for someone to take your car into the underground bowels.
The valet team are amazing. They unload your luggage, get it on a cart, handle your skis/bikes for you – basically take care of everything so you can get checked in quickly.
They whisk your luggage away on a cart. It magically shows up to your room minutes after you enter your room. It's awesome. It's worth the expected tip and then some.
Ski storage
When you check in with skis, you hand the parking valet team your skis, they give you a ticket and you don't have to deal with any ski equipment until you go skiing. It's a dream come true for anyone who loathes hauling equipment around. Given we have two young boys with skis, the last thing I want to handle is three sets of ski equipment and luggage. Instead, I hand it all over the valet team for storing until we hit the slopes.
Retrieving your skis is so convenient. It's located on the end of the hotel next to the gondola. You make your way down there and ask for your skis, boots and poles. An attendant hands them to you and off you go. It can get busy once in a while but for the most part we didn't wait.
When you're done skiing, there's an attendant at the bottom of the slope who takes your skis for you.
Bike storage
Just like ski storage, the hotel offers bike storage. It operates the same. You show up, the parking valet team take your bikes, give you a ticket and off they go. You don't have to worry or deal with them until you wish to go biking.
To retrieve your bike, you go to the same area where your skis are stored, tell them your ticket number and they get it for you. Off you go.
Shuttles
The hotel offers shuttles for many adventures. We took one to go see the "Trainwreck" about 10 km away. You can also take a regular shuttle into the village. We did this as well.
When you check-in, be sure to get a list of the Fairmont shuttle adventures you can join in on. They offer quite a few, at least in Summer. Our shuttle to the trainwreck which the kids enjoyed was free (except for tipping the shuttle driver).
The most important shuttle is the one that goes to the village. While the restaurants are fine in the Fairmont, chances are you want to hit the village at some point for dining, partying and/or shopping. In summer it's a pleasant walk but in winter you're best off taking the shuttle.
The restaurants
There are 4 restaurants on the property. They are Portobello, The Wildflower, the Grill Room and the Mallard (it's a pub but you can order food). We've eaten/dined at all but the Grill Room.
The option with the best atmosphere is the Mallard pub. It's an absolutely gorgeous, large pub with overstuffed furniture throughout. It also has a patio that look out over the resort grounds and forest. It's casual. It's busy. The service is great. The food is okay. Yeah, I said it. The food is just okay. We don't go there for the food but instead the atmosphere.
For casual, fast and less expensive, Portobello is the best. The food here is amazing. It's a cafeteria/cafe. They serve breakfast, lunch and dinner. It's a high-end cafeteria. You line up, choose your food and pay. The staff there are exceptional. We have young kids who pick and choose instead of going with pre-arranged plates. The staff are too happy to help. Their meat dishes and chili are amazing. You can go just for coffee, but good luck. When you see th array of baked goods, you'll buy one. All-in-all, Portobello is a delight.
The Wildflower and Grill Room are kind of in the same space. It's confusing. I still haven't figured it out.
The Wildflower is fine-dining. The service is impeccable but it does take quite a while to get your food. We only noticed that because we went with young kids. They were good sports about it.
The food is great though. I really enjoyed it. The service was just as good. They aren't snooty at all.
The breakfast buffet at the Wildflower is amazing. We gave that a good try as well. The selection and quality is what you'd expect at such a hotel. It did not disappoint.
Room Service
In addition to the restaurants, you can of course order room service. We also enjoyed a few meals in our room.
This is what I have to say about the Fairmont room service. It's the finest room service I've ever had and we've stayed in some decent hotels in many areas. I'm not talking about the food. The food is decent. Nothing special but not bad. I'm talking about the actual service and presentation. Our attendant wheeled in a large cart, put down a linen on our living room coffee table and set up our entire dinner for nice in-room dining. He was fast and precise. My wife and I loved it. I strongly recommend you try the room service just to witness this spectacle.
The grounds
For a hotel in Whistler where land is at an absolute premium, the Fairmont inhabits a large property that includes a long driveway, tennis court, pool area, grassy area and of course the gargantuan hotel building.
I wouldn't say the grounds are spectacular like some 5-star Hawaiian resort, but for Whistler they are great.
The lobby
Of all the hotel lobbies I've viewed in Whistler, the Fairmont's is the best. It's cavernous, luxurious, spacious, littered with comfortable seating (sofas and chairs) and pleasing to the eye.
I know it's weird but I do judge a hotel by its lobby and in this case, the Fairmont does not disappoint.
When we arrived recently, due to COVID we had to wait an hour for your room. We thought we'd take a chance showing up early hoping to get access to our room early but that was not to be. And so we waited. We camped out in one of many "mini-living rooms" in the lobby and relaxed until our room was ready.
The pool and spa facilities
The pool (indoor/outdoor)
Pools in hotels are big deal for us because we have young kids. It's a must-have. If we're shelling out for a hotel, it has to have a pool.
Not all hotels in Whistler have a pool, but the Fairmont does and it's very good. It's a connected indoor/outdoor pool. This is nice because you can access it in winter from the inside so you don't have to freeze sprinting across the pool deck to enter the water.
In winter, they keep the pool water luke warm – almost like a bath. It's magnificent. My kids are water rats so I end up staying in the pool for hours. In this case it was not a problem because the water was so warm.
It's not quite as warm in Summer, nor should it be.
Is the Chateau Fairmont pool big?
I have to admit given the size of the hotel and number of guests it can accommodate I thought the pool would be bigger. It's big, don't get me wrong but when we were there in winter, it got busy in the later afternoon/early evening. Same with the hot tubs.
However, as far as I can tell, it's the second biggest hotel pool in Whistler. We stayed at the Hilton which had a much smaller pool. It appears the Four Seasons has a larger pool (based on photos). I'll know more when we stay there in a couple of weeks.
In summer we went during COVID so we had to reserve a time to use the pool. While reserving was a hassle, during our allotted two hours, it was like having the place to ourselves.
Hot tubs
There are four hot tubs in the pool area; three outside and one inside. They are hot, which is key. They're sizeable but do get busy. The outdoor ones are the most popular. After all, what's nicer than sitting in a hot tub when it's snowing or during a cool Summer night? Not much.
Sauna and steam room
There is a sauna in the indoor pool area. In winter they also have a few barrel saunas on the pool deck. These were fun. Kids loved them too. I'm a sauna fanatic so I must say I was disappointed with how hot they were – as in not hot enough.
There's also a steam room in each change room. I never did try the steam room so can't comment on that.
The Spa
I love spas. I get massages regularly but sadly we've always been so busy during our Whistler visits that I couldn't fit in a massage. One time I will. Yes, this hotel does have a spa.
Booking a room
One thing I appreciate about this hotel is you can call it directly to reserve a room. I find central booking numbers a real hassle because usually the folks helping don't know the hotel well at all. I'm particular about the rooms we book and usually have questions. When I call the Fairmont Whistler, I get a knowledgeable person who knows the rooms well.
Overall – will I stay at the Chateau Fairmont Whistler again?
Yes, I will. In a few months, I'll book another 5 to 6-day ski trip for next winter and will most definitely book a one-bedroom suite at the Fairmont. For skiing, there's no hotel like it in Whistler.
As for Summer, I'm not quite as enamored with it given it's not as important to be located next to the gondola. I think I'll use Summer stays to test out many other hotels in Whistler – like the Four Seasons which I'll try in a couple of weeks.