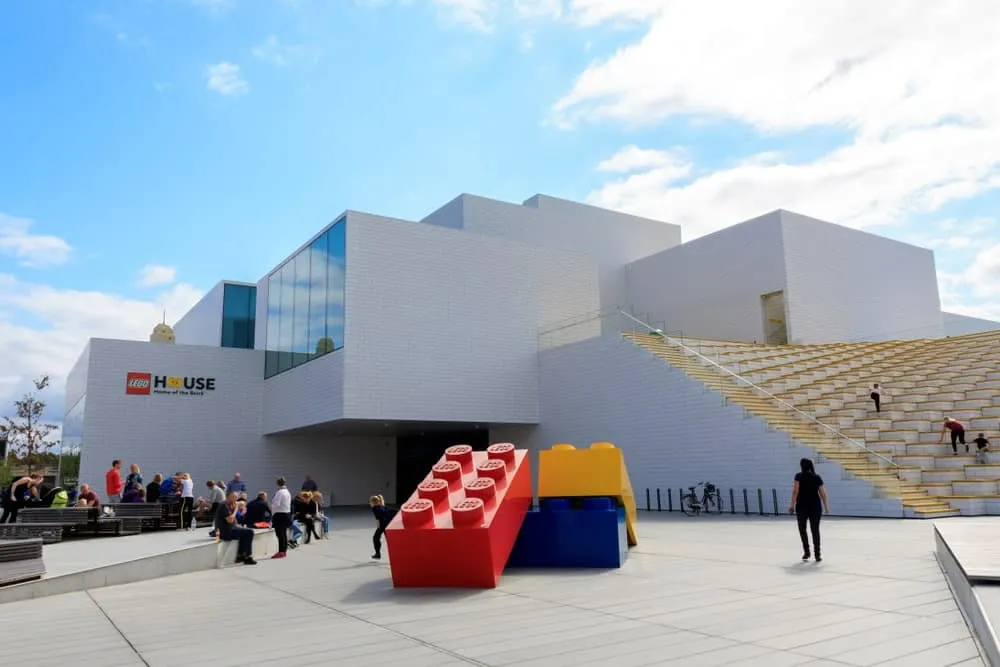 Would you like to spend your next vacation sleeping on a bed of loose Lego bricks? The Lego House in Billund, Denmark, and all its furniture is built entirely of Lego blocks. Guests who booked it were welcome to create whatever they liked out of the millions of available Lego pieces. Although this property is no longer available to stay in, you can find a wealth of other quirky options on Airbnb and Vrbo. If you prefer less pointy plastic in your vacation rentals, that's available too.
What are Airbnb and Vrbo?
These two sites are popular online marketplaces for vacation rental properties. They act as brokers and receive commissions from bookings.
History
Vrbo, or Vacation Rentals by Owner, was founded in 1995 and is headquartered in Austin, Texas. In 2006 it was acquired by HomeAway. They have joined the Expedia Group with other, similar sites like VacationRentals.com.
Airbnb is a significantly younger company, founded in 2008 and headquartered in San Francisco, CA. They offer significantly more property listings. This is partly due to offering a greater variety of accommodation types (see below).
Airbnb Accommodations
Because of the number of listings and their more relaxed requirements, this site has gotten a reputation for offering properties that are more outside the box. Alongside a sea of more standard options like cabins and resort bungalows, you can find safari tents, treehouses, and crypts that have been converted into hotel rooms.
Repeat site visitors may have noticed that the nontraditional properties aren't as easy to find as they once were. Those more unique listings are still available, but they've been swept into broader categories by the site's search engine. However, before you get into exploring the search filters, you need to decide what kind of space you're interested in booking. Is it the entire property, a private room, or a shared room?
An Entire Property
This allows you to book a complete home. Sometimes a yard's included. In general, this option will include a bathroom, bedroom, some kind of cooking and living space, and a dedicated entrance.
Pros
Space is all yours and all private.
You can come and go as you please, even late into the night, without worrying about waking up and annoying other lodgers.
Kitchens are handy for people who don't have the budget or interest in eating out for every meal.
Cons
This tends to be the most expensive of the three options.
You'll miss out on chances to make connections with people from around the world.
If you're planning to be sightseeing all day, every day, do you really need an entire 'home base' to store your things in?
Private Rooms
This option gets you a private room to sleep in, similar to a Bed and Breakfast. These may come with an attached private bathroom. In this case, it will be mentioned in the listing. Other spaces like the kitchen or patio are shared.
Pros
This is more affordable than booking an entire property.
You'll often be able to use amenities like the kitchen or entertainment room.
If you book a private room during the low season, you may luck out and end up with the place to yourself anyway.
You'll be able to socialize in the public spaces and still have somewhere quiet to unwind.
Cons
Private rooms, especially those with bonus amenities like a dedicated bathroom or porch, are more expensive than shared rooms.
You'll have less space to spread out your belongings.
You may have 'house rules' such as keeping quiet at night or washing up your used dishes immediately.
Shared Rooms
Here, all rooms of the house including the bedroom are shared with other people. This may look like a hostel or a dorm-style room with curtains dividing the space a bit. You're getting an affordable price tag in exchange for sacrificing some privacy and quiet time.
Pros
These spaces are highly budget-friendly. They can make expensive parts of the world accessible to people with limited income.
This is a good fit for gregarious people who like meeting other travelers.
Even if you aren't especially extroverted, you may luck up and get a roommate on the same wavelength. Being a little flexible here can lead to a very peaceful vacation without the hefty bill of renting a complete property.
Cons
You'll have significantly less space in which to store your luggage.
If you aren't a good mesh with your roommate, the situation can get quite awkward. This is especially true if you've booked many days in the room.
These budget listings tend to have the fewest additional amenities.
With all that being said, what are the property types available? AirBnB offers a wide variety of properties including:
houses
bed and breakfasts
bungalows
guest suites
hostel accommodations
chalets
lofts
villas
apartments
serviced apartments
hotels
boutique hotels
resorts
cabins
cottages
guesthouses
townhouses
Whether you can book a shared room, private room, or the entire space is dependent on the specific property. You may also be able to come to an arrangement with the homeowner or property manager. It doesn't hurt to ask politely.
Vrbo Accommodations
Vrbo only allows the booking of a complete property, whether it's a house with a fenced-in yard, a multi-room suite in a resort, a boat, etc. Although you lose some flexibility in your accommodation options, Vrbo does have a much more detailed search filter system (see the FAQ below).
Most of Vrbo's listings are classic properties like chalets and country houses. However, they also offer a scattering of charmingly eccentric options like mills, castles, and houseboats.
So which property types are available through Vrbo? These can be grouped into several general categories.
Freestanding Properties
These properties consist of a freestanding house and the land immediately around it.
Pros
You'll have privacy and possibly outdoor amenities like gardens or the pool.
These houses have kitchens, bathrooms, bedrooms, living rooms, etc.
Cons
These properties tend to be more rural (like with country houses), instead of centrally located in destination cities.
They aren't the most exotic accommodation for your vacation.
This category includes:
houses
townhouses
cabins
cottages
farmhouses
bungalows
country houses
Attached Properties
The properties in this category are connected to larger complexes.
Pros
You'll have convenient access to the complex's amenities like spas and gyms.
These properties may be located in urban areas, putting you close to the heart of the nightlife.
Cons
You won't have exclusive use of a yard (although balconies are possible).
The neighbors can be disruptive if the soundproofing isn't on point.
Here, you'll find:
condos
apartments
studios
hotels
resorts
guest houses
bed and breakfasts
Luxury Properties
These are popular for a splurge or as part of a destination wedding or other event.
Pros
No expenses are spared here. You'll be able to experience luxurious furniture, five-star cuisine, etc.
The views, like the property itself, are spectacular.
Cons
High-end properties come with a high-end price tag.
Celebrity-endorsed luxury properties may be booked for months in advance.
Luxury properties include:
villas
lodges
chalets
estates
castles
Boats
People who love the water may find these the perfect vacation getaways.
Pros
The waterfront views are guaranteed; just look off the deck.
You'll get a head start on fishing at dawn.
You may love the camaraderie of the dock community.
Cons
Boats don't offer much space for luggage or amenities.
This isn't a good option for people with motion sickness, as the boats will be rocking.
Vrbo's boat-dedicated sections are:
boats (a catch-all category)
houseboats
yachts
Non-traditional lodging
This category covers unique listings that don't fit elsewhere.
Pros
The lodgings are a charming change of pace, especially for the historic buildings.
Some of these are quite budget-friendly.
Cons
You're less likely to find high-end features here.
Older structures may be cramped and less comfortable.
Vrbo's options include:
caravans
FAQs
What countries and territories are bookings available in?
Vrbo offers listings for over two million properties in 190 countries. AirBnB features seven million listings in 191 countries. All first world countries and most vacation hotspots are included.
Certain countries and territories are excluded from both sites due to international restrictions. This includes places like Crimea, Iran, Syria, and North Korea. There are also some local governments that have banned or almost banned these listings, for example Mallorca, Spain, and much of the French Quarter of New Orleans.
When booking on either site, you may occasionally have to look farther afield for accommodation.
How do the search filters compare?
Airbnb has the expected search filters based on the accommodation type, price, number of bedrooms and bathrooms, a desired neighborhood in the city, etc. Other useful filters include:
type of accommodation (the entire place, a private room, or a shared room)
cancellation flexibility
available amenities like kitchens or indoor fireplaces
whether pets or smoking is allowed
which properties were rated 5 stars by business travelers
host language is spoken
In contrast, Vrbo has a noticeably larger selection of filters. This is good news for people who want something specific. Other travelers may find the number of options overwhelming.
Alongside standard choices like price per night and number of bedrooms and bathrooms, you can explore your options with filters like:
whether outdoor spaces are included
which house rules the homeowner has set
are children or pets welcome
are events allowed (important if you're planning a destination event like a bachelorette party)
which amenities are available like a pool, gym, free parking, etc.
local activities and attractions like watersports, museums, casinos, or wineries
elevator and wheelchair accessibility
beach or mountain views
ski-in, ski-out properties
and many, many more.
What fees are involved when booking?
Airbnb charges fees to both guests and their hosts. As a guest, you'll be looking at between 5-15% fees on your reservation. Hosts are charged 3%, with additional service fees for hosting an experience.
Vrbo also charges both homeowners and their guests. Guests typically see 6-12% fees, while hosts can pay a percentage fee per booking or a flat subscription payment every year.
Other fees vary by accommodation but may include:
local taxes
charges to change your reservation
pet deposits
cleaning fees
Check the booking page carefully to make sure you understand the charges.
What refund policies do these sites offer?
Due to the Covid-19 pandemic, this has become a very relevant topic. Travel restrictions can come and go in a matter of weeks. This leaves people who've booked in advance in a difficult situation.
The two booking sites have taken different approaches here. Airbnb required that homeowners give full refunds to renters who canceled due to governmental restrictions for travel. Vrbo, on the other hand, simply urged their property owners to be flexible when working with cancellations. Keep in mind that this doesn't mean definitely won't receive a refund for your Vrbo booking. That's up to the individual homeowner's cancellation policies and how accommodating they're willing to be.
Can guests leave reviews?
Both sites have a system that allows guests to leave reviews.
On Airbnb, guests can leave star ratings for a variety of topics such as communication with the host and property location. These reviews also include text for more detailed and personal notes. The listing's review section can be searched for keywords that you're looking for or concerned about.
Vrbo's review section also has star ratings and a comment section from the previous guests. Unlike with AirBnB, the homeowner can also post a response to any comments. This could give you more insight into how the homeowner communicates, additional facts not contained in the guest's review, etc.
What other features do the sites have?
Airbnb has an 'experiences' section pointing visitors toward activities nearby. These range from tourist favorites the town's known for (like the Hollywood Walk of Fame) to local attractions like the best microbrewery in town. You can also book reservations with participating restaurants directly through the site.
Vrbo's Trip Boards section lets you 'heart' listings you love on a Pinterest-esque format and collect comments from friends and family.